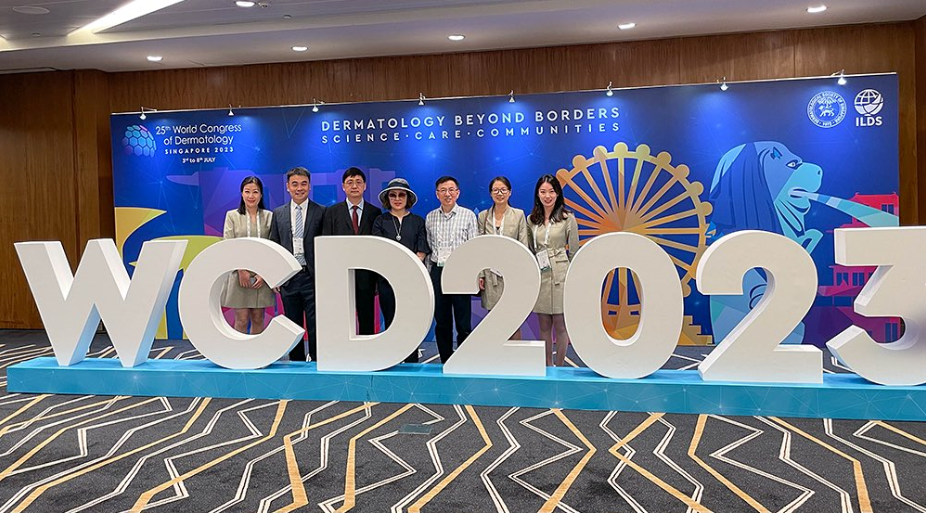 Just finished an amazing time at the 25th World Congress of Dermatology in Singapore.
The World Congress of Dermatology (WCD) is a really big global conference all about skin. It brings together dermatology experts from different countries to share new information, talk about their experiences treating patients, and show off their scientific research.
 GSD show most popular high power laser hair removal machine and our latest fiber laser hair removal machine – Coolite Evo3 in WCD 2023 exhibition on 4th -7th of July.
Our Products
Coolite Evo 3: The Triple-Wavelength Laser Hair Removal Machine
Triple-Wavelength Technology: The Coolite Evo3 is equipped with three laser wavelengths ( 810nm, 940nm,1064nm), ensuring optimal hair removal across diverse skin types and tones. This advanced technology targets hair follicles directly, effectively reducing hair growth and delivering long-lasting results.
Coolite Evo3 is equipped with a unique three-wavelength mixed output mode to improve hair removal efficiency and reduce hair removal sessions. The multi-wavelength mixed output can cut off the blood supply to the hair follicle while destroying the hair follicle, further improving the comfort during the treatment process. At the exhibition, people from beauty salons from all over the world were attracted to experience it in person and received the highest evaluation!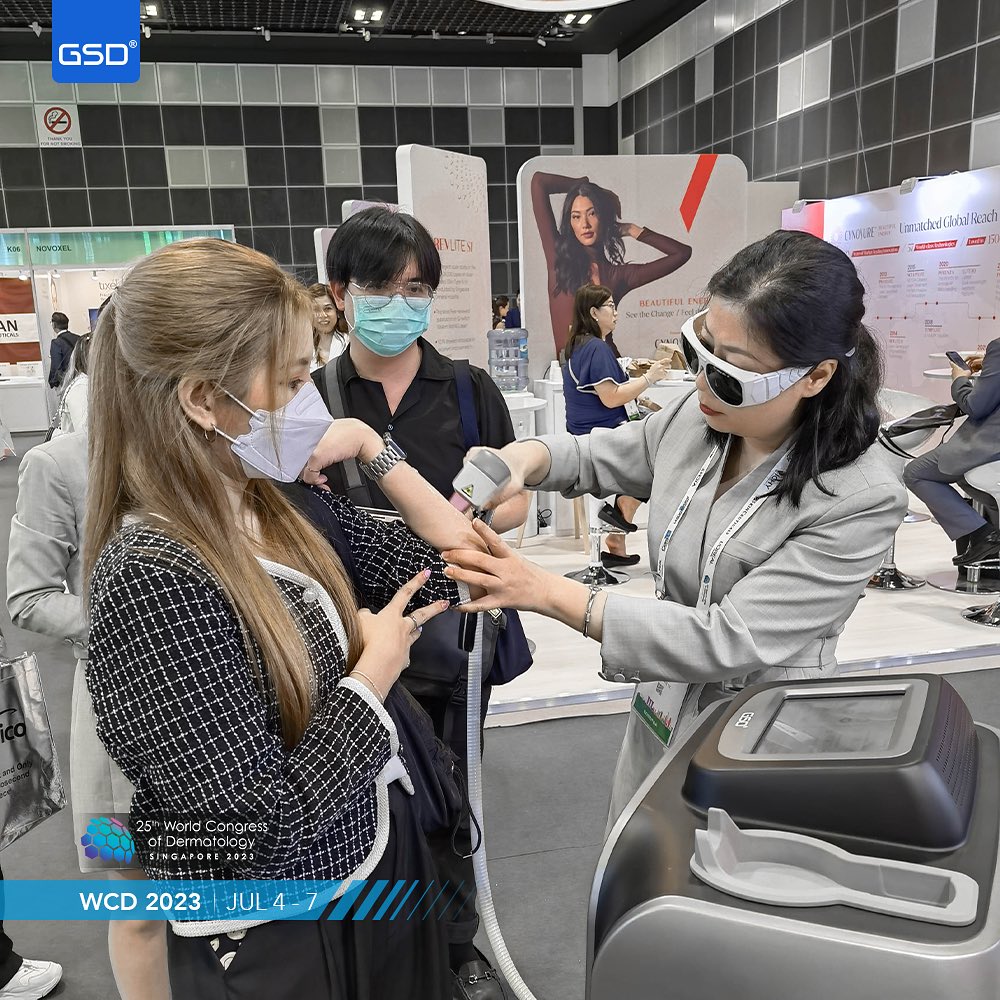 Coolite Bolt – High-Power Laser Hair Removal Device:
Coolite Bolt is a high-power laser hair removal device that is effective on all skin types and hair colors. It is fast, comfortable, and safe and can provide permanent hair removal in as few as 6 treatments.Since its release, it has been the focus of beauty exhibitions, with excellent functions and beautiful appearance, it has been recognized by beauty salons in more than 120 countries and continues to grow!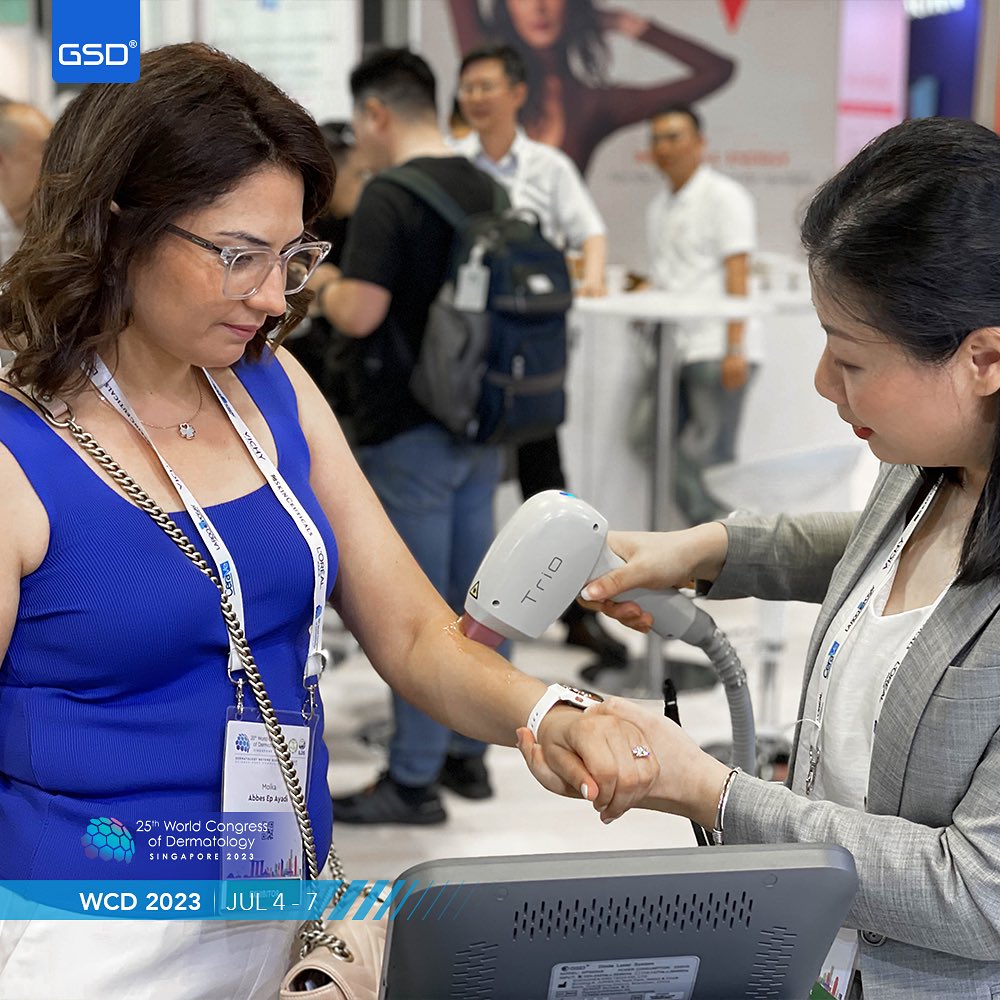 Eximal Mini-Handheld Vitiligo Treatment Device:
GSD's Eximal MiNi is a cutting-edge 308nm vitiligo treatment instrument designed to address this concern. With adjustable parameters and exceptional safety features, the Eximal MiNi provides a non-invasive and effective solution for individuals battling vitiligo.
discover the great features of our Aesthetic devices
It is such a privilege to connect with dermatologists and media from across the world who are brimming with a passion for skin science at the 25th World Congress of Dermatology in Singapore .Gsd Aesthetic look forward to having you contact us and discover the great features of our Aesthetic devices!